Conclusiones en la Temporalidad y Ritmo Circadiano del Dolor
Conocer el comportamiento temporal del dolor es una herramienta fundamental para enfermería puesto que éste es uno de los síntomas más frecuentes que debe atender en su ejercicio profesional;(27) además, la enfermera es una fuente valiosa de información para el médico ya que el contacto directo con los pacientes y su familia permite una valoración más acertada de los cambios en la intensidad del dolor y el alivio, mejorando la calidad de vida del paciente al lograr una administración de analgésicos acorde con las variaciones circadianas del dolor.(28)
En la siguiente traducción (tabla 2) se pueden observar los picos máximos de dolor y el comportamiento circadiano que se presenta en diferentes patologías.(29)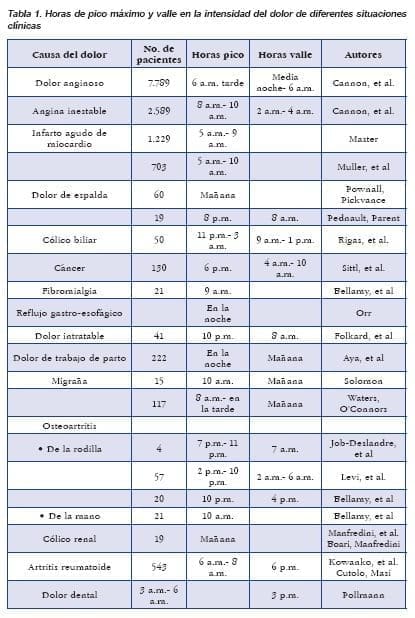 Conflicto de intereses
Los autores declaran ausencia de conflicto de intereses en la redacción de la presente revisión.
Ver más Revistas de Enfermería, CLICK AQUÍ
Referencias bibliográficas
1. Golombek DA. El sueño es ritmo (y los ritmos, ritmos son). Rev. Arg. de Psiquiat. 2007;18(74):283-87.

2. Stein PK, Lundequam EJ, Oliveira LP, Clauw DJ, Freedland KE, Carney RM, Domitrovich PP. Cardiac autonomic modulation. Analyzing circadian and ultradian rhythms. IEEE Eng Med Biol Mag. 2007;26(6):14-8.

3. Spengler CM, Czeisler CA, Shea SA. An endogenous circadian rhythm of respiratory control in humans. J Physiol. 2000;526 Pt 3:683-94.

4. Mistlberger RE. Circadian regulation of sleep in mammals: role of the suprachiasmatic nucleus.Brain Res Rev. 2005;49(3):429-54.

5. Allen CN. Circadian rhythms, diet, and neuronal exci tabi l i ty. Epi lepsi a. 2008;49(Suppl 8):S124-6.

6. Küller R. The influence of light on circa rhythms in humans. J Physiol Anthropol Appl Human Sci. 2002;21(2):87-91.

7. Haus E, Touitou Y. Principles of clinical chronobiology. En: Touitou Y, Haus E. Biologic rythms in clinical and laboratory medicine. Berlin: Springer Verlag. 1992: 6-27.

8. Golombek DA. Cronobiología humana, ritmos y relojes biológicos en la salud y en la enfermedad. Argentina: Ediciones Universidad Nacional de Quilmes. 2002. p. 221-9.

9. Danilenko KV, Wirz-Justice A, Kräuchi K, Weber JM, Terman M. The human circadian pacemaker can see by the dawn's early light. J Biol Rhythms. 2000;15(5):437-46.

10. Rüger M, Scheer FA. Effects of circadian disruption on the cardiometabolic system. Rev Endocr Metab Disord. 2009;10(4):245-60.

11. Ziegler DK, Hassanein RS, Kodanaz A, Meek JC. Circadian rhythms of plasma cortisol in migraine. J Neurol Neurosurg Psychiatry. 1979; 42(8):741-8.
Fuentes Bibliográficas
12. Mondragón Rezola E, Arratíbel Echarren I, Ruiz-Martínez J, Martí Massó JF. Sleep disorders in Parkinson's disease: Insomnia and sleep fragmentation, daytime hypersomnia, alterations to the circadian rhythm and sleep apnea syndrome. Rev Neurol. 2010; 50(2):S21-26.

13. Parish JM. Sleep related problems in common medical conditions. Chest. 2009;135(2):563-572.

14. Gery S, Koeffler HP. Circadian rhythms and cancer. Cell Cycle. 2010; 9(6):1097-103.

15. Froy O. The relationship between nutrition and circadian rhythms in mammals. Front Neuroendocrinol. 2007;28(2-3):61-71. Epub 2007 Mar 24.

16. Laposky AD, Bass J, Kohsaka A, Turek FW. Sleep and circadian rhythms: key components in the regulation of energy metabolism. FEBS Lett. 2008; 582(1):142-51.

17. Salgado Delgado RC, Fuentes Pardo B, Escobar- Briones C. La desincronización interna como promotora de enfermedad y problemas de conducta. Salud Mental. 2009;32:69-76.

18. Bruguerolle B, Labrecque G. Rhythmic pattern in pain and their chronotherapy. Adv Drug Deliv Rev. 2007;59(9-10):883-95. Epub 2007 Jul 13.

19. Pöllmann L. Circadian variation of potency of placebo as analgesic, Funct Neurol 1987;2(1):99-103.

20. Lautenbacher S, Kundermann B, Krieg JC. Sleep deprivation and pain perception. Sleep Med Rev. 2006;10(5):357-69. Epub 2006 Jan 4. Review.

21. Rains JC, Poceta JS, Penzien DB. Sleep and headaches. Curr Neurol Neurosci Rep. 2008 Mar;8(2):167-75. Review.

22. Webber K, Davies AN, Cowie MR. Breakthrough pain: a qualitative study involving patients with advanced cancer. Support Care Cancer. 2010 Dec 22. [Epub ahead of print]

23. Centeno C, Bruera E. Tratamiento y prevención del síndrome de neurotoxicidad inducido por opioides. Medicina Paliativa. 1999;6(2);56-66.
Referencia
24. Klepstad P, Skogvoll E, Kaasa S, Borchgrevink PC. Circadian distribution of oral opioid consumption in cancer patients. Methods Find Exp Clin Pharmacol. 2000;22(10):753-5.

25. Davis JA, Robinson RL, Le TK, Xie J. Incidence and impact of pain conditions and comorbid illnesses. J Pain Res. 2011(4):331-345.

26. Sánchez-Sánchez RM, Pernía JV, Calatrava J. Tratamiento del dolor en los estudios de enfermería. Rev Soc Esp Dolor. 2005;12:81-5.

27. Walid MS, Donahue SN, Darmohray DM, Hyer LA Jr, Robinson JS Jr. The fifth vital sign–what does it mean? Pain Pract. 2008; 8(6):417-22.

28. Seron-Ferre M, Valenzuela GJ, Torres-Farfan C. Circadian clocks during embryonic and fetal development. Birth defects research (Part C) 2007;81:204–14.

29. Labrecque G, Vanier MC. Rhythms, pain and pain management. In: P. Redfern (Ed). Chronotherapeutics. London: Pharmaceutical Press. 2003 p. 212–23.



Temporalidad y Ritmo Circadiano del Dolor