En términos generales, las indicaciones quirúrgicas son las siguientes: sangrado, sepsis por perforación o absceso, obstrucción, fístula y dolor crónico.
En los casos tratados que fueron llevados a cirugía, el 46.1 % fue por divertículo perforado y el 23.1 % por hemorragia (Tabla 6).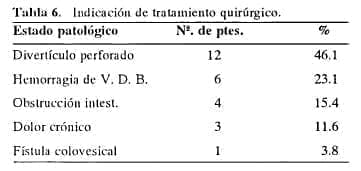 Tratamiento del sangrado por enfermedad diverticular
Las indicaciones para cirugía en el paciente con sangrado digestivo bajo por enfermedad diverticular son valoradas según la evolución clínica, de acuerdo con los siguientes criterios:
Cuando se necesitan 1.500 mL de sangre para la reanimación, y el sangrado continúa.
Cuando se necesitan más de 2.000 mL de sangre para mantener los signos vitales en niveles normales durante un período de 24 horas.
Cuando persiste el sangrado importante y continuo por 72 horas.
Cuando ocurre resangrado durante la primera semana.
La tarea inicial con estos pacientes debe orientarse a identificar el sitio del sangrado por medio de estudios gamagráficos o por arteriografía, con miras a embolizar el vaso sangrante o a utilizar sustancias vasoconstrictoras para detener el sangrado. La cirugía está indicada en pacientes con sangrado continuo y cuando el sitio de éste ha sido localizado previamente. La resección del segmento de colon afectado es usualmente curativa y está asociada con una mortalidad operatoria del 5% (48,49).
La colectomía total con ileoproctostomía soluciona el problema en forma .definitiva pero la tasa de mortalidad es muy elevada.
Wwelch y col (50) opinan que la colectomía total está indicada cuando se presenta un sangrado masivo en pacientes con extensa enfermedad diverticular o cuando no es posible determinar el lugar del sangrado. Una maniobra que puede ser útil para lograr localizar el sitio del sangrado, es la de utilizar el colonoscopio en la sala de cirugía para guiarlo con el abdomen abierto (51)
Tratamiento quirúrgico de las complicaciones inflamatorias
En los pacientes en que está indicada la cirugía por dolor abdominal crónico o por episodios de diverticulitis recurrente, la resección del segmento de colon comprometido y la anastomosis terminoterminal primaria, ofrecen buenos resultados ( 30, 52).
Según la clasificación de Hinchey (30, 31), en el estado 1 de la enfermedad, la resección primaria y anastomosis puede ser llevada a cabo con seguridad (53, 54).
La colostomía proximal debe ser considerada si la contaminación es importante o el colon no está adecuadamente preparado.
Para el estado 11 en que hay abscesos localizados y el paciente se encuentra severamente enfermo, el drenaje extraperitoneal percutáneo guiado por ultrasonido o tomografía computarizada, puede ser el procedimiento de elección, hasta cuando el paciente se encuentre en mejores condiciones y sea posible llevarlo a cirugía electiva de resección (55-60).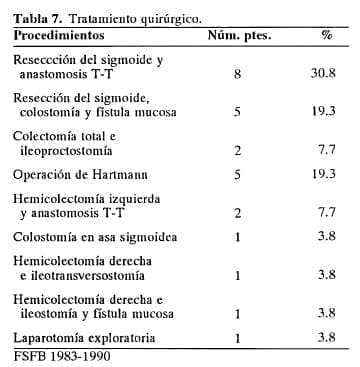 En los estados III y IV hay varias posibilidades quirúrgicas, tales como la resección en tres tiempos, cuya técnica fue popularizada por Smithwick desde 1942. El primer tiempo consiste en practicar una colostomía en nivel del transverso y efectuar drenaje de las colecciones, en un intento por controlar las complicaciones sépticas, para lo cual se agrega la administración de antibióticos endovenosos. El segundo tiempo llevado a cabo entre 3 a 6 meses más tarde, consiste en resecar el segmento de colon comprometido por la enfermedad diverticular, con anastomosis primaria, dejando la colostomía del transverso como protección de la anastomosis. El tercer tiempo es el cierre de la colostomía del transverso 1 a 3 meses después. Otra alternativa de tratamiento es el manejo en dos tiempos u operación de Hartmann, técnica quirúrgica de elección para el tratamiento de la diverticulitis perforada (61). La resección del segmento comprometido, con colostomía proximal y cierre del segmento distal, tiene el beneficio de la resección del área de inflamación y del control más efectivo del proceso séptico sin correr el riesgo de realizar una anastomosis en condiciones no óptimas, que podrían llevar al fracaso de la misma. La Tabla 7 muestra las alternativas quirúrgicas utilizadas en esta serie de pacientes, siendo la más frecuente, la resección y anastomosis terminoterminal en los casos de cirugía electiva y la resección del segmento comprometido con colostomía y fístula mucosa o la operación de Hartmann en los casos de urgencia (62-72).
Tratamiento de las fístulas
El tratamiento ideal es la resección del segmento de colon afectado seguida de anastomosis primaria. En los casos de fístulas colovesicales, que son las más frecuentes, muchas veces el orificio de la vejiga no se puede visualizar; éste cierra en forma espontáneamente dejando una sonda vesical para drenaje por 7 días. Si se identifica el defecto de la vejiga, debe suturarse en dos planos con material absorbible, interponiendo un segmento de epiplón (73-75).
Las fístulas colocutáncas son tratadas de igual manera que las colovcsicales. En las fístulas coloentéricas, siempre se requiere cirugía, que consiste en resecar en bloque el segmento de colon afectado junto con el intestino delgado incluyendo la fístula y haciendo anastomosis primaria terminoterminal.
Resultados
La mortalidad global en nuestra serie fue de 4%, 9 casos del total de 226; dentro del grupo que fue llevado a cirugía fallecieron 4 pacientes, correspondientes a un 15.4% delos operados, lo que demuestra una mortalidad alta, reflejo de una población de alto riesgo y de una patología potencialmente letal. Se presentaron dos casos de síndrome de dificultad respiratoria del adulto, 2 de absceso de pared, con una incidencia del 7.7%. No se presentaron casos de fístulas, lo que refleja la escogencia adecuada de aquellos casos en que se realizó resección y anastomosis primaria y la prudente indicación de la colostomía en casos de cirugía de urgencia.
En conclusión, a todo paciente por encima de 50 años debe descartársele la enfermedad diverticular, utilizando como examen de elección el colon por enema, y en el caso de necesitar tratamiento quirúrgico, utilizar en cirugía electiva la técnica de resección del segmento de colon comprometido seguida de anastomosis terminoterminal primaria; y en los casos de cirugía con peritonitis o abscesos intraabdominales, el procedimiento de elección es la operación de Hartmann, reconocida como la técnica con menor morbilidad, según todos los informes de la literatura médica.
Abstract
Diverticular disease is a frequent type of pathology in Western populations. A high-bulk diet, when appropiately used, has shown to be an effective prophylactic measure; once the diagnosis is established, it helps to avoid the progression of the disease and the development of complications. 
The experience at Fundación Santa Fe de Bogotá from 1983 to 1990 is reviewed; the authors examine the incidence of diverticular disease, symptoms, signs, complications, and therapy. A detailed review of the literature is accompanied by updated reccomendations as to the diagnostic work-up and the medical and surgical aspects of the management of this condition.
Referencias
1. Chappuis CW, Cohn 1: Acute colonic diverticulitis. Surg Clin North Am 1988 Apr; 68 (2) 301-13
2. Robert V: Diverticular disease. Current Problems in Surgery 1989 Mar; 26 (3) 133-89
3. Bingley L et al: Colonic diverticular diseasee. Postgraduate Med 1987 Apr; 81 (5): 79-84
4. Kochhar R, Goenka M K, Nagi B, Bhasin D K, Mehta S K: The emergence of colonic diverticulosis in urbanised Indians. A reporter of 23 cases. Trop Geogr Med 1989 Jul; 41 (3): 254-6
5. Pohlman T: Diverticulitis. Gastroenterol Clin North Am 1988 Jun; 17 (2) 357-85
6. Fresichlad J et al: Complications of diverticular disease of the colon in young people. Dis Colon Rectum 1986 Oct; 29 (10): 639-43
7. Burkitt D et al: Prevalence of diverticular disease, hiatus hernia and pelvic phlebolitis in black and white Americans. Lancet 1985 Oct; 19: 880-1
8. Cases records of the Massachusetts General Hospital. N Engl J Med 1987 Oct 22; 317 (17) 1076-84
9. Katschinski M, Lederer P, Ellermann A, Ganzleben R, Lux-G, Arnold R: Myoelectric and manometric patterns of human rectosigmoid colon in irritable bowel syndrome and diverticulosis. Scand J Gastroenterol 1990 Jul; 25 (7): 761-8
10. Walters D. A, Smith A N: Strength of the colon wall in diverticular disease. Br J Surg 1990 Mar; 77 (3): 257-9
11. Patiño J F: Etiología, fisiopatología y tratamiento en la enfermedad diverticular del colon. Hosp Gral Univ de La Samaritana. Bogotá, 1979
12. Patiño J F: Enfermedad diverticular del coloo. Bases fisiológicas del tratamiento quirúrgico. Actualización en Cirugía del Aparato Digestivo. Moreno González, pp 195-198
13. Patiño J F: Enfermedad diverticular. Tratado de cirugía No 2. Raúl Romero Torres. Interamericana, 1985, pp 1557- 654
14. Milner P, Crowe R, Kamm M A, Lennard- Jones J E, Burnstock G: Vasoactive intestinal polypeptide Icvcls in sigmoid colon in idiopathic constipation and diverticular disease. Gastroenterology 1990 Sep; 99 (3): 666-75
15. Thornson H J, Busuttil A, Eastwood M A, Smith A N, Ellon R A: Submucosal collagen changes in the normal colon and in diverticular disease. Int J Colorectal Dis 1987 Nov; 2 (4): 208- 13
16. Rodkey G et al: Changing patterns in the surgical treatment of diverticular disease. Ann Surg 1984; 200: 466-78
17. Crit L W et al: Acute diverticulitis of the cecum and ascending colon diagnosed by computed tomography. Surg Gynecol Obstet 1988 Feb; 166 (2) 99-102
18. Chiu T C et al: Diverticulitis of the midrectum. Dis Colon Rectum 1983; 26: 59-60
19. Boffo G C et al: Diverticulosis of the venniform appendix. Gastrointest Radiol 1986; 11: 108-9
20. Segal 1, Leibowitz B: The distributional paltern of diverticular disease. Dis Colon Rectum 1989 Mar; 32 (3): 227-9
21. Mariani G, Teodoli M, Dina R, Giacomini 1: Solitary diverticulum of the cecum and right colon. Report of six cases. Dis Colon Rectum 1987 Aug; 30 (8): 626-9
22. Eastwood M A et al: Diverticular disease: Is a motility disorder? Clin Gastroenterol 1982; 11: 545-61
23. Labs J et al: Complications of acute diverticulitis of the colon: Improved early diagnosis with computerized tomography. Am J Surg 1988 Feb; 155 (2) 331•6
24. Trotman l F, Misiewicz J J: Sigmoid motility io diverticular disease and the irritable bowel syndrome. Gut 1988 Feb; 29 (2): 218-22
25. Cortesini C, Pantalone D: Usefulness of colonic motility study in identifyng patients at risk for complicated diverticular disease. Dis Colon Rectum 1991 Apr; 34 (4): 339•42
26. Klein S, Mayer L, Present D H, Youner K D , Cerulli M A, Sachar D B: Extraintestinal manifestations in the patients witb diverticulitis. Ann Intern Med 1988 May; 108 (5): 700-2
27. Sardi A, Gokli A, Singer J A: Diverticular disease of the cecum aod ascending colon. A review oC 881 cases. Am Surg 1987 Jan; 53 (1): 41•5
28. Frager J: Small intestinal complications of diverticulitis of the sigmoid colon. JAMA 1986 Dec; 256 (23) 3258-61
29. Cooper A et al: Microdiverticulitis: arare cause of small bowel obstruction in early infancy. J Ped Surg 1987; 22 (6): 553• 55
30. Gregg R et al: An ideal operation for di• verticulitis of the colon. Am J Surg 1987 Mar; 153: 285-90
31. Underwood J: Tbe septic complications of sigmoid diverticular disease. Br J Surg 1984; 71: 209-21
32. Boulos P B et al: Diverticula, neoplasia or both? Ann Surg 1985 Nov; 202 (5). 607•9
33. Morini J et al: Association of diverticular colonic with adenomas and carcinomas. A colonoscopic experience. Dis Colon Rectum 1988 Oct; 31 (10) 793-6
34. Morini S, de Angelis P, Manurita L, Colavolpe V: Association of colooic diverticula with adenomas and carcinomas. A colonoscopic experience. Dis Colon Rec• tum 1988 Oct; 31 (10: 793-6
35. Lappas J C, Maglinte D D, Kopecli:y K K, Cockerill E M, Lehman G A: Diver• ticular disease: imaging with post•dou• ble-contrast sigmoid f1ush. Radiology 1988 Jul; 168 (1): 35-7
36. Ney C el al: Urelral involvemenl secondary lo diverliculilis of Ihe colon. Surg Gynecol 0l1S1e1 1986; 163 (3) 215-8
37. Balthazar E J, Megibow A, Schinella R A, Gordon R: Limitalions in Ihe CT diagnosis of acule diverliculilis: comparison of CT, conlrasl enema, and palhologic findings in 16 palients. Am J Roenlgenol (AJR) 1990 Feb; 154(2): 281-5
38. Stabile B E, Puccio E, van Sonnenberg E, Neff C C: Preoperalive percutaneous drainage of diverlicular abscesses. Am J Surg 1990 Jan; 159 (1): 99-104
39. Neff C C, van Sonnenberg E: CT of diverliculilis. Diagnosis and Irealmenl. Radiol Clin Norlh Am 1989 Jul; 27 (4): 743-52
40. Labs J D, Sarr M G, Fishman E K, Siegelman S S, Camero n J L: ComplicaIions of acule diverliculilis of Ihe colon: improved early diagnosis wilh computerized lomography. Am J Surg 1988 Feb; 155 (2): 331-6
41. Crisl D W, Fishman E K, Scatarige J C, Cameron J L: Acute diverliculilis of Ihe cecum and ascending colon diagnosed by computed lomography. Surg Gynecol Obslel 1988 Feb; 166 (2): 99- 102
42. Mueller P R, Saini S, Wittenburg J, Simeone J, Hahn P F, Sleiner E, Dawson S 1.., Bulch R J, Stark D D, Ottinger L W el al: Sigmoid diverlicular abscesses: perculaneous drainage as an adjunct lo surgical reseclion in 24 cases. Radiology 1987 Aug; 164 (2): 321-5
43. Raval B, Lamki N, SI Ville E: Role of compuled lomography in diverliculilis. J Compul Tomogr 1987 Apr; 11 (2): 144- 50
44. Wada M, Kikuchi Y, Doy M: Uncomplicated acule diverliculilis of lhe cecum and ascending colon: sonographic findings in 18 palients. AJR-Am J Roentgenol 1990 Aug; 155 (2): 283-7
45. Wilson S R, Toi A: The value of sonography in Ihe diagnosis of acute diverliculilis of lhe colon. Milner y Col. Gastroenlerology 1990 Vol. 99 (3) Págs: 666-75
46. Stabile B E: Therapeulic options in acute diverliculitis Compr Ther 1991 Jan; 17 (1): 26-33
47. Wilson R G, Smilh A N, Macintyre 1 M: Complicalions of diverlicular disease and non-sleroidal anli-inflammalory drugs: a prospeclive sludy. Br J Surg 1990 Ocl; 77 (10): 1103-4
48. Leilman I M, Paull D E, Shires G T: Evaluation and managemenl of massive lower gaslrointeslinal hemorrhage. Ann Surg 1989 Feb; 209 (2): 175-80
49. Jensen D M; Machicado G A: Diagnosis and Irealment of severe hematochezia. The role of urgent colonoscopy after purge. Gastroenlerology 1988 Dec; 95 (6): 15-69-74
SO. Welch C el al: Hemorrhage from Ihe large bowel with special reference lo angiodysplasia and diverlicular disease. Am J Roentgenol (AJR) 1990 Jun; 154 (6): 1199-202
51. Flickinger E G, Stanforlh A C, Sinar D R, MacDonald K G, Lannin D R, Gibson J H: Inlraoperalive video panendoscopy for diagnosing siles of chronic inleslinal bleeding. Am J Surg 1989 Jan; 157 (1): a37-44
52. Tudor R G el al: The oplions in surgical Ireatmenl of diverlicular disease. Surg Ann 1987; 19: 135-49
53. King D W, Lubowski D Z, Amstrong A S: Sigmoid slriclure al colonoscopy: an indicalion for surgery. Inl J Colorectal Dis 1990 Aug; 5 (3): 161-3
54. Haas P A, Fox T A Jr: The fale of lhe forgollen rectal pouch after Harlmann's procedure without reconslruction. Am J Surg 1990 Jan; 159 (1): 106-10: Discussion 110-1
55. Saini S et al: Percutaneous drainage of diverlicular abscess. Arch Surg 1986 Apr; 121 (4): 475-8
56. Abcarian H, Pearl R K: A safe lechnique for reseclion of perforated sigmoid diverliculilis. Dis Colon Rectum 1990 Oct; 33 (10): 905-6
57. Moreaux J, Vons C: E1eclive reseclion for diverticular disease of lhe sigmoid colon. Br J Surg 1990 Sep; 77 (9): 1036-8
58. Alanis A, Papanicolaou G K; Tadros R R, Fielding L P: Primary reseclion and anastomosis for lreatment of acute diverliculitis. Dis Colon Rectum 1989 Nov; 32 (11): 933-9
59. Whelan R L, Wong W D, Goldberg S M, Rothenberger D A: Synchronous bowel anastomoses. Dis Colon Rectum 1989 May; 32 (5): 365-8
60. Levien D H, Mazier W P, Surell J A, ¡{¡¡iman P J: Safe reseclion for diverticular disease of Ihe colon . Oís Colon Reclum 1989 Jan; 32 (1): 30-2
61. Lamberl M E: Managemenl of Ihe seplic complicalions of diverlicular disease. Br J Surg 1986 Jul; 73 (7) 576-9
62. Haas P A, Haas G P: A crilical evaluation of Ihe Harlmann's procedure. Am Surg 1988 Jun; 54 (6): 380-5
63. Schein M, Decker G: The Hartmann procedure. Exlended indicalions in severe inlra-abdominal infeclion. Dis Colon Reclum 1988 Feb; 31 (2): 126-9
64. Ravo B, Mishrick A, Addei K, Caslrini G, Pappalardo G, Gross E, Sackier J M,
Wood C B, Ger R: The Irealmenl of perforated diverliculitis by one-stage intracolonic bypass procedure. Surgery 1987 Nov; 102 (S): 771-6
65. Gregg R O: An ideal operation for di verliculitis of Ihe colon. Am J Surg 1987 Mar; 153 (3): 285-90
66. Marien B: The Harlmann procedure. Can J Surg 1987 Jan; 30 (1): 30-1
67. Benn P el al: Level of anaslomosis and currenl colonic diverliculilis. Am J Surg 1986 Feb; 151: 269-71
68. Rishlom L: Primary resection on perforaling diverliculilis of Ihe colon. World J Surg 1982; 6: 490-1
69. Maingot : Operaciones abdominales. Schwarts- Ellis. 8 ed. Edil Panamericana pp 1291-313
70. Greif J el al: Surgical Ireatmenl of perforated diverliculilis of Ihe sigmoid colon. Dis Colon Reclum 1980; 23: 483-87
71. Sanderson E el al: Henry Barlmann and lhe Hartman Operalion. Arch Surg 1980; 115: 792-3
72. Buchman T: Currenl managemenl of palienls Wilh lower gaslrointestinal bleeding. Surg Clin Norlh Am 1987 Jun; 67 (3) 651-65
73. Ravo B el al: The Irealmenl of perforaled diverliculitis by one-stage inlracolonic bypass procedure. Surgery 1987 Nov; 102 (5): 771-6
74. Colonna J O 2d, Kang J, Giuliano A E, Hiatt J R: One stage repair of colovaginal fistula complicating acule diverliculilis. Am Surg 1990 Dec; 56 (12): 788-91
75. Fazio V W, Church J M, Jagclman D G, Weakley F 1.., Lavery I C, Tarazi R, van Hillo M: Colocutaneous fistulas complicating diverticulitis. Dis Colon Reclum 1987 Feb; 30 (2): 89-94